Are Gift Cards Impersonal or Appreciated?
For many, the holidays are synonymous with stress. Shopping for anyone - parents and siblings, or spouses or friends, co-workers, and other relatives - can be stressful whether it be because of time limitations or budget. The overwhelming fear of buying the wrong gift for loved ones consumes many, resulting in gift cards, cash, or other tokens viewed by some as impersonal.

"The perfect gift."
My brother is a 20-year-old college student, and even thinking of shopping for him stresses me out. My mum always opposes the idea of gift cards and cash and insisting, "but you both need something to open!"

The stress and pressure associated with choosing "the perfect gift" is commonly associated with holiday shopping. What is it about the holidays that make shopping more stressful? I still want to avoid shopping for my brother and give him a gift card. Is it because the brands I typically shop for would not be approved by him? Or that I don't want to spend hours browsing stores and websites looking for something he may be semi-remotely interested in?

"On top of the pressure of having too much to do in too short a time period, there is the expectation and desire to give gifts people will enjoy and use," said social psychologist Susan Newman, Ph.D. "Coming up with the perfect gift - and for some shoppers, many gifts - is not so simple. It requires thought about the recipient and a good understanding of who that person is and what (s)he would like. Not easy."

Shopping = pressure.
I was happy to find that I'm not alone in this struggle to shop for my brother, more than 50 percent of people identify shopping and holiday budgeting as their top source of stress, according to MasterCard's 2013 Consumer Holiday Survey, and 42 percent of Americans prefer to give gift cards over physical objects or experiences. Whether it's time limitations, budget, or simply having no idea what somebody wants/needs, shopping inevitably leads to high pressure last minute purchases or the alternative of avoiding the hassle and opting for a gift card.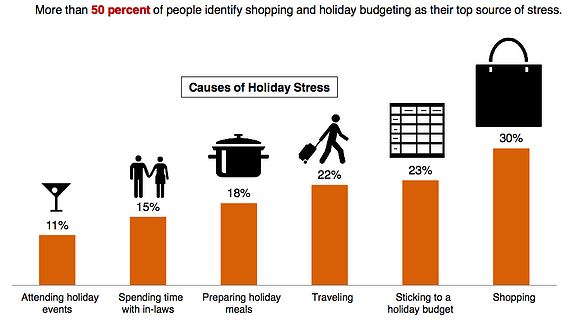 Newman wrote on Psychology Today that finding the perfect gift may be puzzling and seem nearly impossible and it isn't uncommon for one to feel this way and resort to giving gift cards or cash. Despite this she featured Steven Gimbel, Ph.D., Chair of the department of philosophy at Gettysburg College, in a guest blog post about gift giving in which Gimbel advises against the gift card and explains why it's a symbol of our culture's lack of intimacy.

Gift cards are lazy and impersonal...
"Personally, I agree with him when he says, 'Gift cards are the lazy person's gift," she comments in the post. When I asked her about this personally, Newman said giving a gift card or cash is the result of "not taking the time or making an effort to consider what the other person might want."

Gimbel gave three reasons why gift cards are "the lazy person's gift:"
1. You are making the receiver do his own shopping and that's your job.
2. It's no different from giving cash except that now the receiver can't spend it wherever he or she pleases.
3. It is supposed to be the thought that counts not how much it costs, but with a gift card it is only about how much it costs because that's all there is to the gift.
But in some cases, Newman said these may not be the intention at all, and that not having the time or energy to shop could be a contrary reason.

… but, people do want them!
However, MasterCard's survey says 43 percent of consumers are hoping to receive gift cards this holiday season.

The one exception Gimbel later provided was when gift cards are paired with experiences. "One of the best gifts my wife and I have ever received was a packet of gift cards from my parents," he wrote. "They were for local restaurants and came with a promise to babysit our very young children. These were not just gift cards, but the possibility for a couple to spend valuable "us time" together, something that my folks knew was scarce in our busy lives."

Gift cards can be appreciated and put to good use.
Susan Krauss Whitbourne, Ph.D., professor of psychology at the University of Massachusetts Amherst believes gifts have powerful emotional meanings, but also recognizes that gift cards and cash can be positively given and appreciated. "You might give a gift card because you know the recipient will put it to good use and doesn't want a gift," she said.

Although Whitbourne does think gift cards and cash can be impersonal and reduce the gesture of gift giving, she said they are more acceptable choices if that's what the recipient requests. "Pack it up in a thoughtful card or package and then it's more personal," she suggests. "Don't be pressured by sales tactics that try to guilt-trip you into spending more than you wanted to."

Holiday gifting advice:
In times like this, Newman advises: "Take the time to think about the person for whom you are buying a gift and what they would like or can use. Don't get caught in the trap of believing you have to spend a certain dollar amount—think this is the ideal gift even if it is not costly or not what you believe you should be spending."

In the end, I'm still going to give my brother a gift card. At first, I was just going to stick with one of those Visa gift cards, but then, I thought about things he may need and remembered he drives a car. So, a gas station gift card it is! Now I don't have to worry about getting him a pointless, tangible gift OR a Visa card that is basically like cash.

Do you think gift cards are lazy? How do you feel when receiving one? How do you decide between gift cards and tangible gifts?
[Images from MasterCard's 2013 Consumer Holiday Survey]