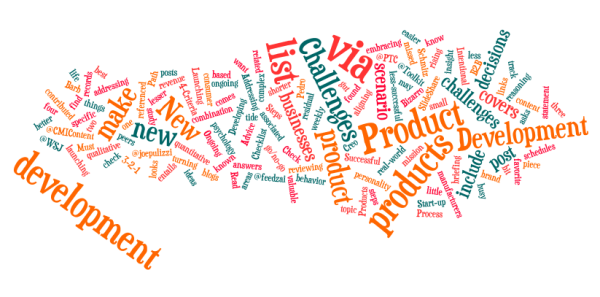 Product Development: 5 Useful Blog Posts
We know you're busy and we want to make your life a little bit easier by launching our weekly list of posts you may have missed. This list will include our favorite links from lesser known blogs that contributed valuable content or insight, based on a specific topic related to psychology, brand personality, and consumer behavior.
1. Launching A New Product? A 4-Criteria Checklist
by @joepulizzi via @CMIContent
This piece asks, "How do we make go/no-go decisions when it comes to new products?" and answers with a combination of quantitative and qualitative reasoning to make those decisions. The list covers four areas: the 3-2-1 scenario, residual revenue, gut check, and the rising tide scenario.
2. Addressing the New Challenges of Product Development
by Barb Schmitz via @PTC_Creo
While reviewing some of the new challenges of product development, this post looks at how real-world manufacturers are addressing them. Challenges include doing more with less, shorter development schedules and more complex products.
3. Start-up Advice on Product Development (Steps and Challenges)
by Pedro Bizarro via @feedzai
Check out this SlideShare briefing 12 steps and two challenges associated with turning ideas into products.
4. Product Development Must Be An Ongoing, Intentional Process
via @Toolkit
This one covers aligning new products with a mission statement, ongoing product development and small businesses embracing it all.
5. The Path to Developing Successful New Products
via @WSJ
A study referenced in this post found that businesses with the best product development track records do three things better than their less-successful peers. Read on to find out what the list entails!

Have a post you'd like to see featured? Have a B2B topic you'd like us to do a list for? Tweet, comment or email us! We'd love to hear from you.